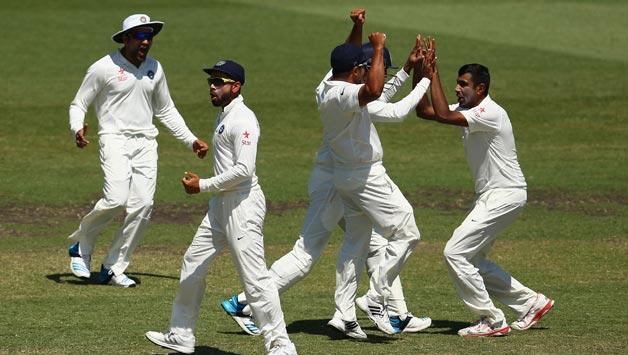 India has challenged Australia's authority in emphatic manner in the ongoing fourth Test at Sydney. While there are innumerable issues surrounding the young team under Virat Kohli, there are many aspects for their fans to cheer about as well. Keeping aside the negatives, Devarchit Varma highlights why this young brigade wins the hearts.
There is always something special about young talent that blesses our beloved game of cricket. Some will announce their arrival in style — like Steven Smith and Virat Kohli smashing almost all records as young captains and key batsmen in their respective sides. There will be bundle of nerves in say, KL Rahul, who will play uncharacteristic strokes and even drop catches, adding more to pressure they are already in. And then there will be characters like Joe Burns as well, of whom the world would not know much. They will silently go on for a couple of days in international cricket and suddenly explode with a blistering knock of 39-ball 66, smashing eight fours and three sixes on the way.
At times, cricket turns out to be a very interesting game when there is a mix of experience and raw talent in a team. But it turns even more funny and interesting when there are just bunch of newcomers on the cricket pitch, running awkwardly yet successfully between the wickets, dropping catches and throwing the ball to teammates in complete frustration. But the most significant difference one gets to see on the field is the energy, the enthusiasm they bring in, their expressions while celebrating wickets, as well as the reactions while ruing failures.
As the fourth Test seemingly headed towards a tame draw, the young Team India under its vibrant captain turned tables on Australia. Despite conceding a huge 97-run lead, Kohli and his men came out all guns blazing; they started attacking right from the first ball, set attacking fields, deployed Ravichandran Ashwin in the second over and reaped results for being brave.
Australia might have planned to add quick runs with an in-form David Warner at the crease, but Indians not only got rid of him early but also gave a send-off. It was not necessary, because India was under pressure and not Warner and Australia. But with Warner's wicket the close-in fielders exploded in raw, unadulterated enthusiasm, blended with a strong urge to succeed, riding on the undying spirit that no matter how much they are battered, the Indians will continue to come back hard.
These days it is extremely hard to know what happens inside an international cricket team's dressing room. But after the draw in the Melbourne Test, team director Ravi Shastri spoke about the team's spirit and their mindset — something which could be the most important aspect of a side. Some may not have completely understood the message Shastri gave, but in just a few hours of the fourth day's play at Sydney, this young Team India proved what spirit they have and how profoundly resilient they are.
Kohli's India wants to win. Kohli's India was aggressive at the Adelaide Oval and it will be aggressive on the fifth day of the final Test at the Sydney Cricket Ground (SCG). Remember, for these young Indians, it has been an arduous journey in four Tests away from home, right before they go on to defend something they held so closely to their hearts — the World Cup. But they will not get bogged down, they will not be pressurised with any amount of runs Australians score, and they will not be scared with the battery of pacers Australia have in their ranks. They will come out fighting every single day, and this is precisely the reason why Steven Smith is not likely to declare before Australia take their lead past 400 on final day. An overnight declaration could actually be risky — India can also get into limited-overs mode and knock off the set target.
Mitchell Starc is a young man with tremendous promise. He is among the huge pool of talented pacers Australia has produced in recent years, and there is certainly a very healthy competition among them. He has a well-known public life as well: he dates Alyssa Healy, the niece of Ian Healy. Without anyone saying, he certainly has a lot of pressure on him; he cannot afford failures for many reasons.
Here, he would not like to be rattled by Shane Warne, who has a history of destroying the strongest of mindsets (remember the Alastair Cook incident?). Now, was Starc wrong in giving a send-off to Murali Vijay after dismissing the in-form batsman early? Was he not trying to make a statement that he is not 'soft'?